BUSINESS DEVELOPMENT MANAGER
ANPHABE ,

Ho Chi Minh - Vietnam

5000

Competitive

Posted: 07 Jun 2022
hZWYm5ppmnCUm5aExaBkb-GkoGOYcFLJpMWoq4DHo5ifmatXc6xsl2lrUr98qKellJ--naXGjIHTmoCR3N7Q0MXIo8nYmdCnhp7VnZygU5vbn8mmz6WeiHPXb2lqoFeVo6SlroKolLGZn5uFc6lsa21V0pSoxZ2qhnOVapOf39SempyIzp_DmM3HhJ7NoGRqmGeebeOz
Job Description
Anphabe is the pioneer consulting firm in Employer Branding and Happy Workforce solutions. We are proud to be the organizer of Vietnam Best Places to Work – the most reputable recognition of top employer brands in Vietnam over the last eight years.  Anphabe also partner with biggest name in the words i.e., Linkedin and Workplace by Meta providing diverse services to attract & retain talents.
As part of our growth strategy, we are looking for a Business Development Manager to join #BeeTeam (our own way to call an Anphabe employee). This position reports directly to Anphabe Chief Happiness Officer (i.e. CEO role in other organization😊)
IMPACTS you would create:
Lead the Client Success Team to drive Anphabe's growth though key partners' solutions
Build Sale strategy for Linkedin & Workplace by Meta and act as strong executor to achieve revenue & profit targets (individual & team)
Be the key coordinator between Partner team & Anphabe team
Key responsibilities:
In charge of a group of own clients with own target: from prospecting to close sales
Lead the business development team to find multiple creative ways to open new doors & build a strong pipeline of right target prospects (cold calling, in mail, social network approach, joining event, etc) and effectively convert them into customers
Maximize Growth opportunities through working with Anphabe's sales team for cross-sale strategy and Anphabe's client success team for up sale strategy
Build & nurture long-term relationships with clients and initiate new sale through client's referral
Be the team expert in Product knowledge, Demo, Objection handling, Contracts negotiation, Client onboarding, etc. to assist team as well as working closely with Marketing for supporting plan
Keep upgrading business acumen, industry and solution knowledge and when relevant, play the role of Anphabe representative in knowledge sharing sessions as a way to marketing and build qualified leads
Set self & team OKR quarterly and make sure your whole team deliver results
Recruit, train & coach 4-5 subordinates up to speed & satisfaction
What we OFFER
Decent Salary / Commission / Bonus according to your performance
Premium Health insurance, annual health checks, company trip and regular team building
15 days of annual leave
Long term incentive for long contributor
Challenging yet rewarding opportunities to grow self & others in which you work with top clients and best partners
Play a vital role in a pioneer agency in HR services who set many new standards for the market and create positive social impacts through our initiatives to HR & leaders community
A Happy working environment where people work hard yet play hard
Be respected for your expertise and initiatives while receiving good support & collaboration across team
Job Requirements
What we LOOK FOR in you:
At least 2-3 years experience as a Business Development Manager.
Experienced in B2B sales or HR-related services would be a plus.
Strategic thinking with good communication & presentation skills (written and verbal) in both Vietnamese and English
Excellent networker with proven sale record
Passion for self-improvement as well as team coaching & training
Have a great sense of ownership and responsibility
Resilient, discipline, result-oriented with positive attitude
Ability to work independently and act on own initiative
Apply if you have equipped yourself with above qualifications 
Not to mention
"Old" boss with "young heart" and young team with "fun spirit"
Every team member can be a teacher - We teach you and you teach us
So, if you are interested in following a unique career with us, drop an email at thu.le@anphabe.com (Ms. Thư) with your résumé enclosed. 
Additional Information
Job Type

Full-Time Permanent
About ANPHABE
Anphabe is the pioneer consulting firm providing Employer Brand and Happy Workforce solutions. We are proud to be the organizer of Vietnam Best Places to Work – the most reputable recognition of top employer brands in Vietnam over the last eight years. Anphabe is now active in five key areas of business:
HR Research & Consultancy
Employer Brand Activation
Talent Acquisition & Engagement
Happy Workforce Training
Networking Community for Professionals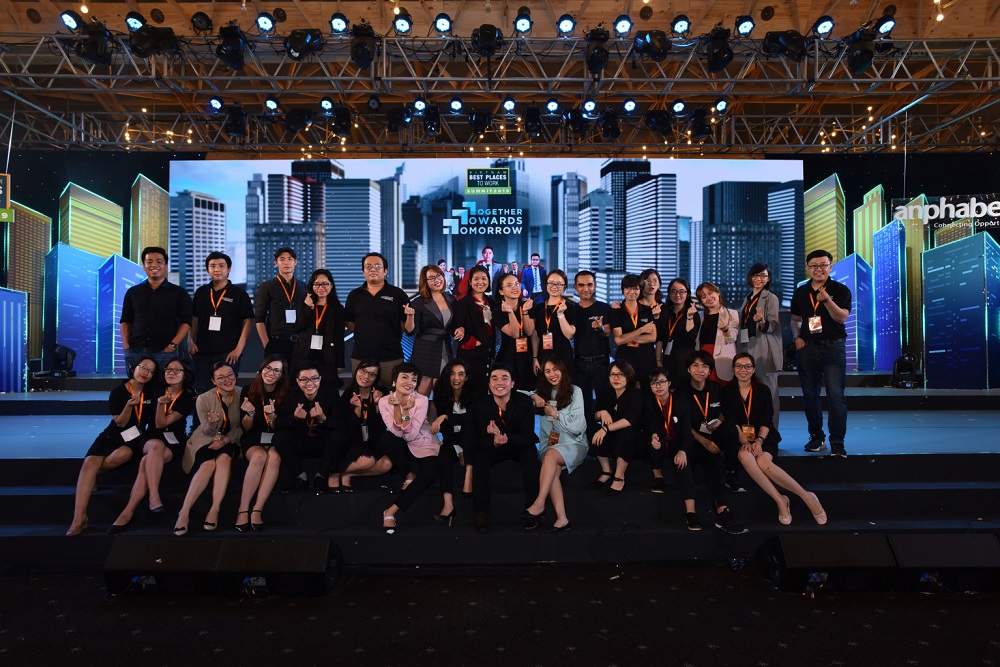 BUSINESS DEVELOPMENT MANAGER
hZWYm5ppmnCUm5aExaBkb-GkoGOYcFLJpMWoq4DHo5ifmatXc6xsl2lrUr98qKellJ--naXGjIHTmoCR3N7Q0MXIo8nYmdCnhp7VnZygU5vbn8mmz6WeiHPXb2lqoFeVo6SlroKolLGZn5uFc6lsa21V0pSoxZ2qhnOVapOf39SempyIzp_DmM3HhJ7NoGRqmGeebeOz