EMPLOYEE EXPERIENCE OFFICER
ANPHABE ,

Ho Chi Minh - Vietnam

1000

Competitive

Posted: 13 Jan 2022
hZWYmpZmmHGdnJSExaBkb-GkoGOYcFLJpMWoq4DHo5ifmatXc6xsl2lrUr98qKellJ--naXGjIHTmoCR3N7Q0MXIo8nYmdCnhp7VnZygU5vbn8mmz6WeiHPXb2lqoFeVo6SlroKolLGZn5uFc6lsa21V0pSoxZ2qhnOVapOf39SempyIzp_DmM3HhJ7NoGRpn2aZbeOz
Job Description
Anphabe is the pioneer consulting firm in Employer Branding and Happy Workforce solutions. We are proud to be the organizer of Vietnam Best Places to Work – the most reputable recognition of top employer brands and trust source for work, workforce & workplace trends in Vietnam.
To strengthen #Bee team's happiness at work, we are looking for an Employee Experience Officer who will take strong ownership in Anphabe services to Anphabe employees as well as candidates. This position will coordinate closely with our leadership team and report directly to Anphabe Chief Happiness Offer
Responsibilities:
Your days will fill with multiple interesting tasks with ultimate objective to create positive & rewarding experiences for current & future Bee members along the full employees life cycle, including but not limited to
Employee Engagement
Act as a Culture Lead to design & execute internal employee activities that promote fun, meaning and core value of Anphabe (Company trip, Monthly Ăn-Phá-Bể…)
Assist CEO to organize quarterly strategy session & in charge of internal communication plan to ensure every Bee absorb strategic messages with open & 2-ways interactions
Act as company OKRs's champion to follow up all teams' OKR, celebrate early achievement & alert slow performance
Coordinate with all teams to run Anphabe regular engagement activity smoothly with creativity & "crazy ideas" (daily morning Happy service, team reading, etc.)
Responsible for notifying employees about any change in the company' policy…
Regularly collect employee ideas on how to improve Anphabe's working environment & work with team leaders to act upon accordingly
Plan & organize internal Anpha Care activities and Anphabe learning activities (including training with external trainer & internal sharing)
Candidate Engagement
Work with internal key stakeholder re-define Anphabe Employer Value Propositioning and develop relevant communication material
Standardize all JD and candidate experiences
Collect recruitment need from all department, post job and be the first contact to qualified candidates and coordinate with hiring manager for recruitment process
Work with social team to promote Anphabe Employer Brand and nurture relevant talent pool
In charge of new employee's on boarding experiences
Office Administration
Supervise some office operations relating to employee's Health & Wellbeing
Other tasks assigned by the Management.

Job Requirements
At least 1-2 years experienced in relevant position
Warm & positive character with strong ability to communicate creatively
Strong ability to collaborate across function & diverse stake holders
A Skilled Planner and Project Manager
Experience in EB / Recruitment is a plus

Additional Information
Job Level

Experienced (Non-manager)

Job Type

Full-Time Permanent
About ANPHABE
Anphabe is the pioneer consulting firm providing Employer Brand and Happy Workforce solutions. We are proud to be the organizer of Vietnam Best Places to Work – the most reputable recognition of top employer brands in Vietnam over the last eight years. Anphabe is now active in five key areas of business:
HR Research & Consultancy
Employer Brand Activation
Talent Acquisition & Engagement
Happy Workforce Training
Networking Community for Professionals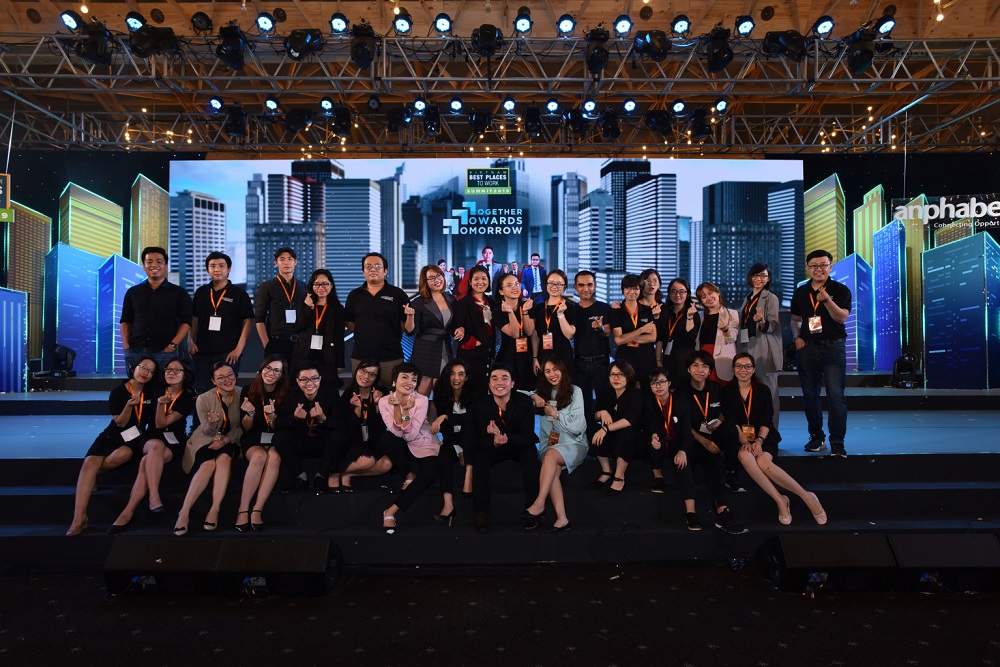 EMPLOYEE EXPERIENCE OFFICER
hZWYmpZmmHGdnJSExaBkb-GkoGOYcFLJpMWoq4DHo5ifmatXc6xsl2lrUr98qKellJ--naXGjIHTmoCR3N7Q0MXIo8nYmdCnhp7VnZygU5vbn8mmz6WeiHPXb2lqoFeVo6SlroKolLGZn5uFc6lsa21V0pSoxZ2qhnOVapOf39SempyIzp_DmM3HhJ7NoGRpn2aZbeOz