EMPLOYER BRANDING & EVENT ASSOCIATE
ANPHABE ,

Ho Chi Minh - Vietnam

700

Competitive

Posted: 22 Jul 2022
hZWYnJRimm-ZmZqExaBkb-GkoGOYcFLJpMWoq4DHo5ifmatXc6xsl2lrUr98qKellJ--naXGjIHTmoCR3N7Q0MXIo8nYmdCnhp7VnZygU5vbn8mmz6WeiHPXb2lqoFeVo6SlroKolLGZn5uFc6lsa21V0pSoxZ2qhnOVapOf39SempyIzp_DmM3HhJ7NoGRqmWSWbeOz
Job Description
As part of our growth strategy, we are looking for an Employer Branding & Event Associate reporting to our Employer Branding & Event Manager. Joining #BeeTeam (our own way to call an Anphabe employee), you would be one of strong player in driving both strategy and execution of Anphabe Marketing as well as Anphabe services.    
Job Requirements
IMPACTS you would create:
Contribute to strategize & execute effective 360 degree Employer Branding projects for clients i.e. top companies in Vietnam, helping them to better attract & retain talents
Be the key coordinator of Anphabe thought-leadership events targeting top CE0 / HR / Leaders such as Vietnam Best Places to Work summit, Vietnam Excellence Summit, Happiness at Work Summit…
Be part of the team to build strong Awareness & Interest for Anphabe B2B services
What we LOOK FOR in you:

Creativity: From ideation to execution in multiple formats (text, images, videos, infographic, workshop, events, etc.) to increase brand awareness, interest, application rate of Clients towards talent community.
Ownership: Independently manage the effective delivery of marketing and employer branding campaigns and/or supporting new product/ service launch to build strong brand awareness and increase user engagement.
Collaboration: Work efficiently across teams with timely communication and deliverables to ensure project progress and service quality.
Sourcing & managing third-party vendors & partners with cost-efficiency for specific client projects.
Creative ideas and effective execution of employer branding projects, media campaigns, and events.
Interactive activities and messages which are relevant to different groups of users across channels, be it traditional or new media.
Meaningful engagement with users on multiple channels which support the success of Employer Branding and Marketing Communications initiatives.
Apply if you have the above-mentioned and has equipped yourself with qualifications below:
At least 1 years of relevant experience in Employer Branding, and/or Marketing
Good command of English (spoken and written)
Innovative, creative, results-oriented, problem-solving oriented
Multi-tasking and work well under high pressure
Good communication skills & teamwork
What we OFFER
Interesting opportunities to grow through exciting projects in which you work with top leaders and best partners across industries
Decent compensation & benefit package according to your contribution
Opportunities to upgrade yourself with knowledge and experience in a unique area combining Marketing Communications, Employer Branding and HR
Play a vital role in a pioneer agency who set many new standards for the market and create positive social impacts through our initiatives to HR & leaders community
A working environment where we value Teamwork and Independence: You will have the chance to fully own independent projects while at the same time join big scale cross-functional works to learn and contribute in multiple aspects
Be respected for your expertise and initiatives while receiving good support & collaboration from a young & dynamic team
Please drop an email at thu.le@anphabe.com (Ms. Thư) with your résumé enclosed.    

Additional Information
Job Level

Experienced (Non-manager)

Job Type

Full-Time Permanent
About ANPHABE
Anphabe is the pioneer consulting firm in Employer Branding and Happy Workforce solutions. We are also the organizer of Vietnam Best Places to Work – the most reputable recognition of top employer brands in Vietndam over the last eight years.  Anphabe is proud to partner with biggest name in the world i.e., Linkedin and Workplace from Meta providing diverse services to attracts & retain talents.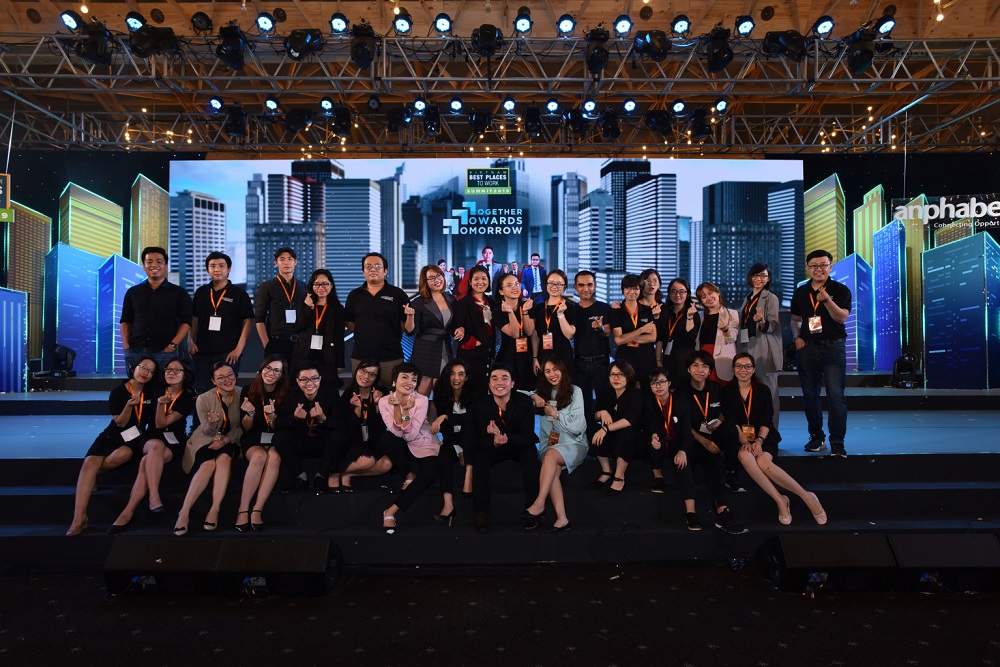 EMPLOYER BRANDING & EVENT ASSOCIATE
hZWYnJRimm-ZmZqExaBkb-GkoGOYcFLJpMWoq4DHo5ifmatXc6xsl2lrUr98qKellJ--naXGjIHTmoCR3N7Q0MXIo8nYmdCnhp7VnZygU5vbn8mmz6WeiHPXb2lqoFeVo6SlroKolLGZn5uFc6lsa21V0pSoxZ2qhnOVapOf39SempyIzp_DmM3HhJ7NoGRqmWSWbeOz