PR & COMMUNICATIONS ASSOCIATE
ANPHABE.COM ,

Ho Chi Minh - Vietnam

800

Competitive

Posted: 19 Feb 2021
hZWYl5hlmnKUm5iExaBkb-GkoGOYcFLJpMWoq4DHo5ifmatXc6xsl2lrUr98qKellJ--naXGjIHTmoCR3N7Q0MXIo8nYmdCnhp7VnZygU5vbn8mmz6WeiHPXb2lqoFeVo6SlroKolLGZn5uFc6lsa21V0pSoxZ2qhnOVapOf39SempyIzp_DmM3HhJ7NoGRonmSdbeOz
Job Description
This position reports directly to Senior MarCom Executive.
IMPACTS you would create:
Reliable and reputable Anphabe brand as the market leader which provides solutions to build strong Employer Brand and Happy Workforce for Top companies in Vietnam
Compelling stories and messages which speak to different groups of users across channels, be it traditional or new media
What we OFFER
Challenging yet rewarding opportunities of growth through projects in which you work with HR leaders, CEOs from big organizations across industries
Decent compensation & benefit package according to your contribution
Opportunities to upgrade yourself with knowledge and experience in a unique area combining Marketing Communications, Employer Branding and HR
A working environment where we value Teamwork and Independence: You will have the chance to fully own independent projects while at the same time join big scale cross-functional works to learn and contribute in multiple aspects
Be respected for your expertise and initiatives while receiving good support & collaboration from a young & dynamic team
Not to mention
Sheer joy of turning insights into positive values for clients
"Old" boss with "young heart" and young team with "fun spirit"
Every team member can be a teacher - We teach you and you teach us
Job Requirements
What we LOOK FOR in you:
Content development skills: from content creation in various formats to content distribution on multiple channels, in both English and Vietnamese
Strong understanding of Social Media channels (ie. Facebook, LinkedIn, etc.) and effective channel management skills to ensure the success of brand communications and lead-generation campaigns
Communication and collaboration skills to work effectively across teams and stake holders, both internally and externally
Creativity, positive thinking, problem solving and willing to go extra miles for mutual benefits
Apply if you have the above-mentioned and has equipped yourself with qualifications below:
Strong background in Communications, Journalism
At least 01 year of relevant experience in Content Production, Communications, Social Media, and Employer Branding
Multi-tasking and work well under high pressure
So, if you are interested in following a unique career with us, drop an email at thu.nguyen@anphabe.com (Ms. Thu) with your résumé enclosed.
Additional Information
Job Level

Experienced (Non-manager)

Job Type

Full-Time Permanent
About ANPHABE.COM
Anphabe is the pioneer consulting firm providing Employer Brand and Happy Workforce solutions. We are proud to be the organizer of Vietnam Best Places to Work – the most reputable recognition of top employer brands in Vietnam over the last eight years. Anphabe is now active in five key areas of business:
HR Research & Consultancy
Employer Brand Activation
Talent Acquisition & Engagement
Happy Workforce Training
Networking Community for Professionals
We are looking for a PR & Communications Associate to join our Marketing team and help level up our Communications activities across channels. Joining us as a PR & Communications Associate, you would be one of our team members who takes strong ownership in content production and distribution, social media engagement as well as support in marketing communication initiatives for the company as well as for clients who are big corporations in the market.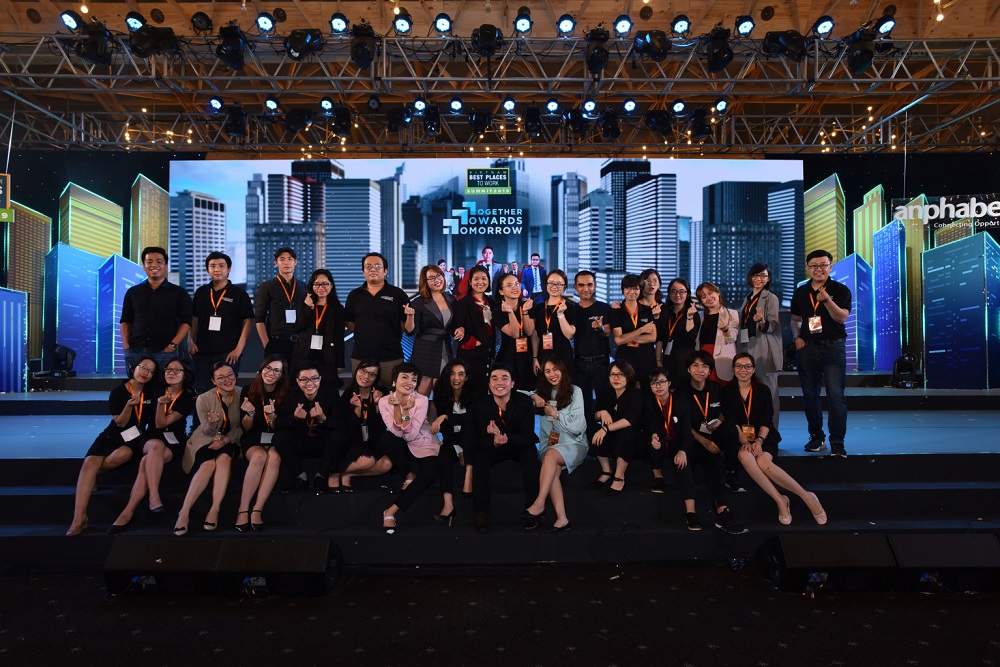 PR & COMMUNICATIONS ASSOCIATE
hZWYl5hlmnKUm5iExaBkb-GkoGOYcFLJpMWoq4DHo5ifmatXc6xsl2lrUr98qKellJ--naXGjIHTmoCR3N7Q0MXIo8nYmdCnhp7VnZygU5vbn8mmz6WeiHPXb2lqoFeVo6SlroKolLGZn5uFc6lsa21V0pSoxZ2qhnOVapOf39SempyIzp_DmM3HhJ7NoGRonmSdbeOz