RESEARCH & ANALYTICS MANAGER
ANPHABE.COM ,

Ho Chi Minh - Vietnam

2000

Competitive

Posted: 07 Sep 2021
hZWYmZxjmWyUmZiExaBkb-GkoGOYcFLJpMWoq4DHo5ifmatXc6xsl2lrUr98qKellJ--naXGjIHTmoCR3N7Q0MXIo8nYmdCnhp7VnZygU5vbn8mmz6WeiHPXb2lqoFeVo6SlroKolLGZn5uFc6lsa21V0pSoxZ2qhnOVapOf39SempyIzp_DmM3HhJ7NoGRpnGGfbeOz
Job Description
"HR Research" may sound unfamiliar yet this is an exciting job in a very pioneering field. In short, this person works as both a Researcher & a Consultant to help CEO & HR clients better understand critical Talent & Workforce insights, hence having more effective People & Workplace strategy. The job therefore allows you to earn expertise while adding value in diverse areas ranging from HR trends survey, Vietnam Best Places To Work survey to Employer Brand Health survey and Employee Happiness survey, … along with many other customized projects to help reputable organizations building more attractive workplaces and happier workforces.
Being the pioneer in HR research and consulting, Anphabe currently is the strategic partner of top companies in Vietnam.
If you believe numbers can speak, love to connect insights and bring out convincing messages through creative approaches, JOIN US! We welcome passionate Researchers who have strong interest in People & Consulting field.
What we OFFER
Working with HR leaders / CEO from big organizations across industries in interesting projects in which you can apply what you know in a very new field while learning fresher methodology, knowledge and practices 
A decent compensation & bonus according to your contribution
Opportunities to upgrade yourself to be a respected Consultant in a rising HR Research & consulting field.
Teamwork & Independence: You will have the chance to fully own independent projects  while at the same time join big scale cross-functional works to learn and contribute in multiple aspects
Get relevant training programs and opportunity to practice important skills from Data processing, Insight delivery, Presentation, Project management, etc.
Be respected for your expertise and initiative while receiving good support & collaboration from a young & dynamic team
Not to mention
Sheer joy of turning insights into positive values for clients and help upgrading People competency of Vietnam's leader community
"Old" boss with "young heart" and young team with "fun spirit"
Every team member can be a teacher - We teach you and you teach us
So, if you are interested in following a distinguish career of an RESEARCH & ANALYTICS MANAGER, drop us an email at uyen.dieu@anphabe.com (Ms. Uyen) with your résumé enclosed. 
Job Requirements
APPLY if you have the below:
Strong Quantitative research skills (Full scale from client services, questionnaire design, data processing, SPSS & Analytic, quality control & reporting, etc.)
Have interest in Qualitative, Psychology, Employee behaviors or HR knowledge. (If you already have certain experiences in these field, that's terrific!J)
Ability to unwrap data and insights to present them in an insightful way
Love to make creative presentation & new way of "story telling" while being fast learner / Interest in exploring the unprecedented
Excellent communication skill (English/Vietnamese) & project management skill
Ability to coordinate with Team, Colleagues, Partners to ensure successful service delivery and provide post-project services as needed
Proactive, Collaborative, Hard working with strong Ownership

* Only suitable candidates will be contacted by Anphabe Team.
Additional Information
Job Type

Full-Time Permanent
About ANPHABE.COM
Anphabe is the pioneer consulting firm providing Employer Brand and Happy Workforce solutions. We are proud to be the organizer of Vietnam Best Places to Work – the most reputable recognition of top employer brands in Vietnam over the last eight years. Anphabe is now active in five key areas of business:
HR Research & Consultancy
Employer Brand Activation
Talent Acquisition & Engagement
Happy Workforce Training
Networking Community for Professionals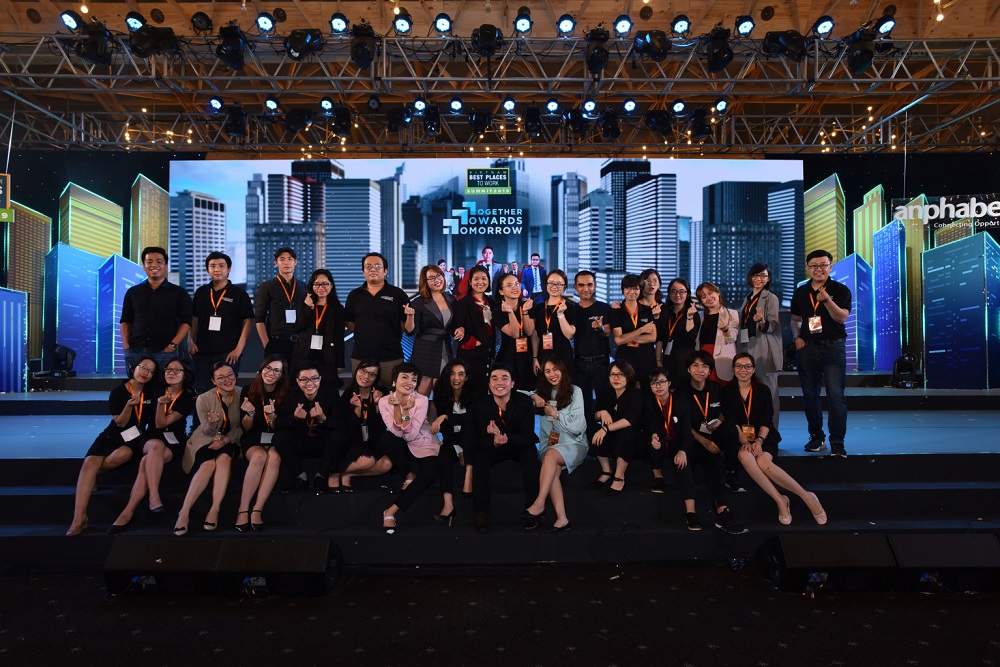 RESEARCH & ANALYTICS MANAGER
hZWYmZxjmWyUmZiExaBkb-GkoGOYcFLJpMWoq4DHo5ifmatXc6xsl2lrUr98qKellJ--naXGjIHTmoCR3N7Q0MXIo8nYmdCnhp7VnZygU5vbn8mmz6WeiHPXb2lqoFeVo6SlroKolLGZn5uFc6lsa21V0pSoxZ2qhnOVapOf39SempyIzp_DmM3HhJ7NoGRpnGGfbeOz