Public Profile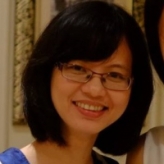 Huong Ha
Manager at Anphabe JSC
Ho Chi Minh
(Vietnam) -
249 connections
JOIN Anphabe to know more about Huong Ha
See who you and Huong Ha know in common
Follow Huong Ha's online activities
Contact Huong Ha directly
And be part of Vietnam largest community for business leaders & experts
Not this Huong Ha? View more »
Past:

Operations Team Leader at Caravat.com
Web Copywriter at Caravat.com
QA at DiCentral Vietnam
Customer Services at Cleverlearn Vietnam
Content Evaluator at BIGFOOT GLOBAL SOLUTION, INC.

Education:

The University of Pedagogy Ho Chi Minh City, Vietnam

Connection:

249 connection(s)
a patient entrepreneur
Job Function:

Marketing, Sales

Industries:

IT - Software/E-commerce

Specialities:

- business event/training sale
- event operations
- web content writing
Manager

Anphabe JSC

IT - Software/E-commerce

April 2011 - Present

(12 years 4 months)

Anphabe is Vietnam senior community connecting thousands of business leaders & experts. Through multiple Share to Succeed channels like Discussion, Event, Big Jobs and Top Headhunt, Anphabe commits to provide the most valuable sharing network to members and working professionals in Vietnam.

As one of the team members, my focus is to help the team in the following areas:

* Newsletter: Anphabe sends weekly newsletter to members. This can be Discussion, Career Guide, Jobs or simply a very nice offer for members (gifts, coupons, vouchers, ..). For every content, we work hard to ensure it brings a valuable piece of information to each member by matching with their interests of industry, location, level, need, ...

* Event: Anphabe creates events to help members have chances to learn, network and know more about the others, which can lead to valuable collaboration for them. Since these are business events for professionals, my contribution is in event operations and audience to maintain the quality of our business events.

* Product Improvement and Customer Care: We try our best to keep the promise with members and clients. As we listen to members and clients with care, many of our improvements in products and services actually come from their ideas, problems and needs.



Operations Team Leader

Caravat.com

March 2010 - March 2011

(1 year)

- Responsible for web content writing/editing: new features, career advice column.
- Oversee Customer Care regarding to Membership Applications, Photo & Profile Approval, Job Support & Report, Sales/Member/Client Support.
- In charge of quarterly Caravat events regarding to ticket selling, revenue report and operations tasks at event.
- Contribute ideas/requirements to improve Caravat features/services to users/clients.


Web Copywriter

Caravat.com

May 2008 - March 2010

(1 year 10 months)

- Research and write contents for a web 2.0
- Write articles for Career Advice

QA

DiCentral Vietnam

April 2007 - May 2008

(1 year 1 month)

- In charge of documentation for project ISO
- Team member of ISO Internal Audit Team (audit and follow up NCs mostly in HR, QA and operations procedures)
- 20% take part in the project of developing B2B website

Customer Services

Cleverlearn Vietnam

Education/Training

May 2005 - March 2007

(1 year 10 months)

in charge of customer services for all online products of Cleverlearn, which included CleverCourse, Clicktionary, Toeic Prep, CleverClass and Movielearn. also take care of CS for website www.henho.com, the vietnamese version of www.itzamatch.com.

Content Evaluator

BIGFOOT GLOBAL SOLUTION, INC.

IT - Software/E-commerce

August 2004 - April 2005

(8 months)

I worked for project Movielearn in Cebu, the Philippines. in charge of translating the movies' subtitles, giving feedback on the visual and written contents for key words. As well, I tried and commented on new versions/builds of Movielearn applications.
Groups and Associations:

HCMGroup (an HR Group in HCM)
The Friends (a volunteer group of charity and community works)
View Huong Ha's full profile to...
See who you and Huong Ha know in common
Follow Huong Ha's online activities
Contact Huong Ha directly
Not this Huong Ha? View more »