Public Profile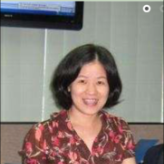 Nguyen Lam Kim Thuy
IT Manager at Prudential Vietnam Insurance
Ho Chi Minh
(Vietnam) -
32 connections
JOIN Anphabe to know more about Nguyen Lam Kim Thuy
See who you and Nguyen Lam Kim Thuy know in common
Follow Nguyen Lam Kim Thuy's online activities
Contact Nguyen Lam Kim Thuy directly
And be part of Vietnam largest community for business leaders & experts
Not this Nguyen Lam Kim Thuy? View more »
Current:

IT Manager

at

PRUDENTIAL VIETNAM ASSURANCE PRIVATE LTD.

Past:

IT Manager at Prudential Vietnam Assurance Private Ltd.

Education:

University of Natural Science, Ho Chi Minh City, Vietnam, Vietnam

Connection:

32 connection(s)
Over 16 working years in Life Insurance and taking many key position in IT fields, i am confident to meet fully your expectations.
Industries:

Insurance, Banking

Specialities:

• Deep and wide knowledge in IT services & Life Insurance industries
• Good to excellent skills in Data & Business Analysis
• Keen in Database architect & process optimization.
• Perform Root cause analysis / Fit-Gap Analysis

IT Manager

PRUDENTIAL VIETNAM ASSURANCE PRIVATE LTD.

December 2000 - Present

(18 years 9 months)

1. Dec2000_ Present : IT Manager, Prudential Vietnam Insurance

IT Business Analyst & Developer (10 years):
• Driving customer satisfaction through the delivery of stable and reliable technology services/ application that are aligned with company business requirements.
• Experience identifying and implementing information technology solutions aligned with business needs.
• Business requirement gathering, gap analyses, User acceptance testing & training
• Life Core system, ERP (Operations & Development)
• Proven ability to build, develop , and motivate a team of experienced IT professionals
• Perform Root cause analysis / Fit-Gap Analysis
* Upsell / Cross-sell analytic by extracting core Life data to support Sales, Marketing, Operations, Finance & Product team
• Review and document business processes, identify process issues and recommend solutions to management in order to improve effectiveness and efficiency of the production applications and processes.
• Participate in the project planning process with end users, business analysts and team members.
• Adhere to and provide accountability for application security procedures, change control guidelines & requirements, and Global IT and Business Standards and Policies
• Provide technical support on data related issues for global researchers, including
diagnosing root causes of technical problems and proposing solutions for developers.

Infrastructure & Operations (6 years)
• The role is accountable for managing the effective and efficient operations (24x7)
• Data Center monitoring & execution.
• Identifying and implementing opportunities to reduce costs of technology services to the business
• Managing the performance of all Technology services
• Ensuring compliance of IT infrastructure, applications, and processes with local & global regulatory requirements and guidelines.
• Ensure service standards and expected turn-around time is met
• Day-end/Month-end batch jobs organization & execution.
• Ensure key risks have been identified, measured, monitored, managed and reported.

2. July 1999 _ Dec 2000 : Messer Vietnam Industrial Gases

Programmer & Business analyst:
• Business requirement gathering
• Database/technical architect & coding
• Training & testing

System , Network Administrator and Help Desk:
• Designed and configured LAN project
• Backup/restore planning & execution
• Business continuousness plan

3. Sept.1996_ July1999: The Foreign Trade development & Investment Corporation of HCMC

• Programmer & Business analyst.
• To assist End-users in testing, application execution.


IT Manager

Prudential Vietnam Assurance Private Ltd.

December 2000 - Present

(18 years 9 months)
University of Natural Science, Ho Chi Minh City, Vietnam (Vietnam)

Bachelor of Engineering , IT Application Development & Business Analysis

1991 - 1995
View Nguyen Lam Kim Thuy's full profile to...
See who you and Nguyen Lam Kim Thuy know in common
Follow Nguyen Lam Kim Thuy's online activities
Contact Nguyen Lam Kim Thuy directly
Not this Nguyen Lam Kim Thuy? View more »