Why McDonald's Việt Nam?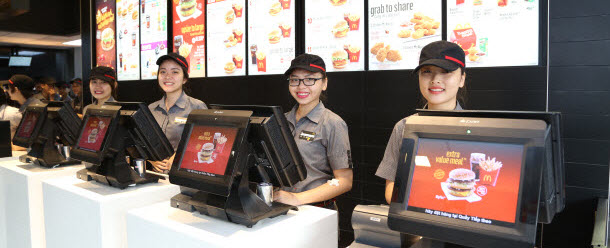 McDonald's là chuỗi nhà hàng đứng đầu trên thế giới trong lĩnh vực thức ăn nhanh. Từ tháng 2/2014, McDonald's mở nhà hàng đầu tiên tại Việt Nam với mong muốn mang lại một trải nghiệm thương hiệu độc đáo tới khách hàng nơi đây với các dịch vụ Drive-thru (mua thức ăn không cần gửi xe), dịch vụ 24/7, đồ chơi trong các phần ăn cho bé… Chúng tôi cam kết không ngừng phát triển cả về chất lượng sản phẩm và dịch vụ khách hàng để duy trì tiêu chuẩn cao nhất của ngành phục vụ thức ăn nhanh không những ở Việt Nam mà cả trên toàn thế giới... 
see more

Inside review about McDonald's Việt Nam
Human Resource Manager

-

1450067186

Pros: Everyone working at McDonald's has the opportunity to take part in structured learning, whether that's in customer service, teamwork or financial management. We believe these skills will serve them well, wherever their career takes them.