Public Profile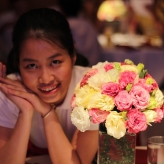 Trang Pham
Marketing Communication Assistant Manager, B2B at Samsung Vina Electronics Viet Nam
Ho Chi Minh
(Vietnam) -
126 connections
JOIN Anphabe to know more about Trang Pham
See who you and Trang Pham know in common
Follow Trang Pham's online activities
Contact Trang Pham directly
And be part of Vietnam largest community for business leaders & experts
Not this Trang Pham? View more »
Current:

Marketing Communication Assistant Manager, B2B

at

Samsung Vina Electronics Viet Nam

Past:

Brand Manager at Diligo joint stock Co.,
Product & Activation Manager at Tupperware Vietnam
Marketing supervisor at Amway Vietnam Co.
Personal Assitant to CEO at Khang Thong JSC
Project Manager at Taylor Nelson Sobres (TNS) Marketing Research Company

Education:

Southern Columbia University, United States
Vietnam National University of HCMC, Vietnam

Connection:

126 connection(s)
Experienced in marketing research and marketing field. Expect to build up my knowledge and experience in Marketing field.
Industries:

Civil/Construction/Materials
Marketing Communication Assistant Manager, B2B

Samsung Vina Electronics Viet Nam

December 2015 - Present

(7 years 7 months)

Brand management:
- Forecast annual B2B Marcom budget and manage monthly expenditures. Deliver marketing activities within approved budget.
- Develop and implement annual marketing plan for B2B Marcom of all related products then monitor, review and report on all marketing activity and results
- Manage Samsung activities at sponsored events - booth + design, showcase products, speakers, HR, coordinate with event organizer, feedback forms to track leads.
- Enhance and leverage Samsung branding tools such as: Samsung image, products image + content/messaging on all channels (both ATL & BTL such as digital channels, POSM, branding at Airport, office building and all other tools), all Samsung Business activities + Samsung partners' activities.
- Media tracking & monitoring on Samsung B2B dotcom website and other digital marketing activities.
- Localize materials for B2B products: review translation of all materials for B2B and manage all production.
Activation management:
- Track weekly and monthly leads (from website, seminars/workshops/events, hotline, etc.) to ensure BOE score – leads generation from Marketing activities and leads conversion rate to BO – closely coordinate with Sales, presales.
- Marketing report from time to time to B2B Group Leader.
- Support Pre-sales team to ensure traffic to Samsung Executive Briefing Center (for both Hanoi and HCMC) via Marketing activities with partners.
- Co-Marketing activities: work with partners in terms of execution (including speakers, demo, samples, POSM/materials, etc.) and all Marcom activities (review and approve all materials, content to align with Samsung/ Samsung Business brand guidelines)
- Supporting scheme for enhancing Samsung B2B partnership – Partnership Relationship Management (such as co-funding in Marcom activities, incentive program, and technical training supports by verticals to corporate resellers/Resellers network, etc.)


Brand Manager

Diligo joint stock Co.,

June 2015 - December 2015

(6 months)

1. Marketing Strategic Planning:
- Develop and align marketing strategies and execution plan for oral care brand.
- Develop and manage marketing budget based on activities and monitor business & brand performance
2. CMI:
- Research on consumer insight and develop marketing activities from research study or consumers' observation.
- Conduct both internal & external research studies to support marketing plan decision
- Analyse Brand Equity for yearly brand evaluation.
3. New product launch:
- Build, develop, evaluate and work closely with R&D for product concept and prototype developments for new toothpaste.
- Manage and working closely with Legal & Creative agency for new products claim, packaging concept development and launching plan.
4. Channel management:
- Leading Product / Trade and channel marketing, Go To Market (GTM) ... etc
- Leading the Trade promotion program and pricing
- Working with and support the sales team (nationwide) for GT/MT/KAM channel
- Collect, analyse & updates of market data into useful competitive information for management decision.
- Identify new channel / trade.. i.e. GTM segments for sustainable growth.
- Work together with HQ and Regional counterparts for new marketing idea, concepts, managements, new products rollouts... etc

Product & Activation Manager

Tupperware Vietnam

FMCG - Household / Personal Care

October 2013 - December 2015

(2 years 2 months)

Responsibilities:
 Person in charge of Product Development (Plastic and Non-plastic product portfolio) and Marketing strategy.
 Consumer Market Insights Leader (CMI) in Vietnam market.
- Develop, manage and implement actionable multi-year & annual strategic brand & portfolio plans for own business line
- Effectively execute the plan and manage to achieve the brand growth in term of brand value, awareness, penetration, productivity and sales revenue
- Effectively manage the brand with activities including:
o Portfolio planning
o Portfolio/product positioning
o New product or product optimization planning & launching
o Portfolio Pricing
o Product pipelining
o Advertising planning & messaging with all types of media/touch points internally and externally
o Product promotion
o Product/solution training content planning & execution
- Protect and enhance brand equity of brands over time, across markets, along the category and product line, and overall marketing programs
- Develop brand-oriented marketing plans and budget, including ATL (Internet, Digital, POSM) and BTL (Special Events, Celebrity Endorsements, Promotion...) to enhance brand equity of company brand image and achieve brand sales/profit
- Ensure the timeliness, effectiveness and efficiency of services delivered by marketing agencies (A&P plans, designs, POSM production, promotion production, researches etc.)
- Monitor the timely progress and effectiveness of marketing/brand programs and its contribution to the company's sales and profit growth and propose improvements; as well as the allocation and disbursement of budget for assigned brand to maximize ROI.
- Liaise closely with internal departments and goverment authorities for product & pricing license, seminar and event license as well as promotion license to meet Marketing Calendar.
- Optimise inventory levels by working closely with Supply Chain team to avoid excess stock and TNA
- Effectively manage the portfolio profit & optimize marketing expense
- Mentor, coach and guide staff to help develop the top talent pipeline within Tupperware in both technical and leadership skills
CMI Orientation:
- Deeply understand consumer and market insight to develop and execute tailored marketing activities for local consumers
- Lead innovation/activation projects deployment using funds effectively to achieve brand share, turn over and gross margin

Marketing supervisor

Amway Vietnam Co.

October 2011 - October 2013

(2 years)

Responsibilities:
 Person In Charge of Personal Care & Home care portfolio and
 Consumer Market Insights Leader (CMI) in Vietnam market.
 Project Leader in Oracle Business Intelligence (OBI) System (Global data warehouse)
- Monitor the implementation of marketing plan to ensure achievement of business objectives.
- Development of short-term and long-range strategic and tactical product plans (NPD, reformulation, product renovation, etc.)
- Contributes to strategic, creative, tactical and operational plans across the product portfolio to optimize local product performance and market opportunities
- Monitor and control the A&P spending and prepare data analysis to help the team with brand performance.
- Manage the sales and cost of value added service and solutions. Responsible for product pricing and cost analysis of solution offerings
- Closely monitors and analyzes sales volumes, market share trends and competitive activity.
- Assists in developing and executing promotional initiatives to profitably increase consumption within budgeted parameters.
- Manage agencies and contractors effectively to ensure high quality outputs and value for money
- Market research and portfolio gap analysis; market and competitors analysis; maximize sales and enhance competitiveness in market.
- Launch (Go-to-market) product launch preparation, positioning and support for media engagement to ensure successful and effective product launch
- CRM: working closely with training team and handling distributor/consumer inquiries and complaints in timely manner to avoid depression on corporate brand image and company reputation, included product allergic, product with factory defecting, product quality complaint…


Personal Assitant to CEO

Khang Thong JSC

Civil/Construction/Materials

July 2011 - September 2011

(2 months)

Khang Thong is a multifuntional company about the construction services, investment, oil & gas, power plant, theme park, office building, real estate, etc.

Project Manager

Taylor Nelson Sobres (TNS) Marketing Research Company

June 2008 - July 2011

(3 years 2 months)

Responsibilities:
- Provides expert analytics and insight to projects. Working in collaboration with Research Director - Project Execution, ensures that the content of client deliverables is rich in insight and actionable recommendations with supporting data.
- Control on budgeting & time management for both internal and external.
- Working on quotation to clients at the initial stage.
- Coordinates and manages data collection analysis and interpretation
- Conducts statistical analysis and writes reports/commentaries for local insight from our findings.
- Provides oversight and partnership to Operations on technical issues
- Directs the activity or staff members necessary to complete projects in concert with the Research Director - Project Execution,
- Partners with Client Relationship staff to present, pitch and sell projects
- Revises project guidelines to reflect client requests throughout project design and process as appropriate
- Resolves project issues in a timely and appropriate manner
- Request for data tabulation
- Delivery report analysis and consulting on the available database

Southern Columbia University (United States)

MBA , Marketing

2009 - 2011

Vietnam National University of HCMC (Vietnam)

Bachelors , International Economic Relations

2004 - 2008

Activities and Societies:

- High Achievement Qualifications for attending the National Musical Contest for Students.
- Certificate in being – Ms Charming K4402B – National University - HCMC.

TNS Knowledge Box

2010

Overall and elementary level on marketing research, conduct by TNS Regional This course is held yearly for all TNSers all over Asia and Africa to gather together.
View Trang Pham's full profile to...
See who you and Trang Pham know in common
Follow Trang Pham's online activities
Contact Trang Pham directly
Not this Trang Pham? View more »