Public Profile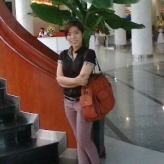 Phung Ho
Purchasing Executive at Viet Nam Food & Beverage Service Co., Ltd
Ho Chi Minh
(Vietnam) -
2 connections
JOIN Anphabe to know more about Phung Ho
See who you and Phung Ho know in common
Follow Phung Ho's online activities
Contact Phung Ho directly
And be part of Vietnam largest community for business leaders & experts
Not this Phung Ho? View more »
Current:

Purchasing Officer

at

Viet Nam Food & Beverage Service Co., Ltd

Past:

Import Sales Executive at Interlogistics Joint Stock Company

Education:

Open University HCMC, Vietnam

Connection:

2 connection(s)
Strive to work with 3 criteria: enthusiasm, responsibility, success
Job Function:

Purchasing/Supply Chain

Industries:

FMCG - Household / Personal Care, Food/Beverage/Dairy, Retail/Wholesale/Distributor

Specialities:

Have been working as purchasing officer for one year and a half at Viet Nam Food & Beverage Service Company as well as logistics company for 1 year, I have well done in my work, specially controlling safety stock level, order management, improving supplier KPI, the import shipping documents, and high spirit of teamwork.


Job Level:

Experienced (Non-manager)
Purchasing Officer

Viet Nam Food & Beverage Service Co., Ltd

June 2014 - Present

(9 years 2 months)

Achievements:
* Controlling stock levels of 15 perishable imported goods in HCM, HN Center
* Distribution Warehouses to supply total demand of 18 stores belong to Popeyes Brand's Chicken Fries.
* 70% of demands are served enough with right good at right time, cost, and quality.
* 80% of orders are delivered on time.
* Deal over 10 contracts every year to get good price, payment term and other requirements from Legal and relevant departments.


Description:
* Taking responsibility for the vendor management of the respective portfolio which consists of:
• Controlling Ho Chi Minh & Ha Noi stocks to remain safety level, ordering with economic quantity, and following up PO to ensure the delivery on time, right quantity, quality and right Distribution WH.
• Coordinate with Warehouse to measure, analyze and improve inventory data in ISO system.
• Analyze stock to transfer goods from HCM – HN or vice versa with the logistics partner.
• Taking care of oversea shipments from supplier DOOR to DOOR with carrier, relevant departments such as accounting, logistics, and warehouse to match demand point in time and handling requested documents to release each shipment smoothly, avoid unexpected surcharges.
• Identifying, proposing Supply Chain Manager to select potential suppliers not only local but also oversea, in accordance to the set criteria, purchasing policies and continuously review list of selected suppliers in order to control cost at reasonable level.
• Conducting negotiations with suppliers to ensure right price, volume, contract, develop new products and setting performance expectations.(quality, lead time, payment term etc)
* Coordinate with operation & marketing departments every month for sales forecast.
* Managing purchasing strategies by BOD and processes to improve cost, quality and productivity.
* Monitoring product sales, expiration date to alert supply chain manager and operation department to plan effective solutions for slow moving items such as promotion, extend expiration date...
* Making payment authorization in full & good documents.


Import Sales Executive

Interlogistics Joint Stock Company

July 2013 - April 2014

(9 months)

Achievements:
The B sales executive monthly.
Exceeding the January target of 200% in 2014


* Generating profit and Volume according to the targets/strategy set by the company.
* Achieving a high customer satisfaction and maintaining strong relationships with existing and potential customers.
* Growing the share of wallet of existing customers and up-selling with additional services.
* Delivering strong sales report to sales manager timely and accurate updates.

Hobbies and Interests:

- Go to yoga class on weekends, swim in free time
- Attended seminars, academic competitions in universities & organizations: The Waste Management Workshop for Small Businesses organized by VCCI, The Trends in the International Business, Green Project…

View Phung Ho's full profile to...
See who you and Phung Ho know in common
Follow Phung Ho's online activities
Contact Phung Ho directly
Not this Phung Ho? View more »