MAR-COM INTERN
ANPHABE ,

Ho Chi Minh - Vietnam

600

Competitive

Posted: 03 Aug 2022
hZWYnJRhkWyZk5mExaBkb-GkoGOYcFLJpMWoq4DHo5ifmatXc6xsl2lrUr98qKellJ--naXGjIHTmoCR3N7Q0MXIo8nYmdCnhp7VnZygU5vbn8mmz6WeiHPXb2lqoFeVo6SlroKolLGZn5uFc6lsa21V0pSoxZ2qhnOVapOf39SempyIzp_DmM3HhJ7NoGRqmWWYbeOz
Job Description
IMPACTS you would create:
This exciting position will allow you to increase your writing skills and expand your knowledge/experience in the HR services sector thru the communications content for Anphabe and Anphabe Partners' services on digital channels.
Supports the coordination of specific marketing and communication activities/campaigns. Support to run Anphabe thought-leadership events targeting top CEO / HR / Leaders, such as Vietnam Best Places to Work summit, Vietnam Excellence Summit, Happiness at Work Summit…
Detail Job Description
Duties will be tailored to intern's interest or area of study, but typical duties of the Marcom intern include, but are not limited to:
Assist in writing multiple types of content for digital communications channels, including press, articles, POVs, social media, web content, letter, invitations, reports, etc.
Assist in planning and executing assigned aspects of Anphabe events and amplification of post-event communication campaign
Content translation (English x Vietnamese)
Assist administrator with creating content and supervising comments/feedbacks on social channels (Page, Group)
Assist in PR and media relation campaigns
Research and develop new ideas for web and social media content.
Stay updated with the latest trends and knowledge in the industry
Other tasks as assigned   
Job Requirements
What we LOOK FOR in you:
Undergraduate student or fresh graduate studying communications, journalism, English, marketing, or equivalent major
Commit to 25-30 hours weekly. Hours and work dates are flexible and set up according to an intern's class/working schedule
Good in writing skills in a variety of tones and voices
Good command of English (especially in reading & writing)
Excellent interpersonal skills, ability to work well with others or independently, creative, proactive and willing to learn attitude.
Multi-tasking ability, able to work well under high pressure and complete projects by deadline
Proficient in the usage of word processing, spreadsheet, and presentation software; other software (photo, video, etc.) a plus   
What we OFFER
A get paid internship and reimbursed for any reasonable expenses incurred while working
Interesting opportunities to grow through exciting projects in which you work with top leaders and best partners across industries
Opportunities to upgrade yourself with knowledge and experience in a unique area combining Marketing Communications, Employer Branding, and the HR sector
Play a vital role in pioneer agency setting many new standards for the market and creating positive social impacts through our initiatives to HR & leaders' community
A working environment where we value Teamwork and Independence: You will have the chance to fully own independent projects while at the same time join big-scale cross-functional works to learn and contribute to multiple aspects
Be respected for your effort while receiving good support & collaboration from a young & dynamic team   
So, if you are interested in following a unique career with us, drop an email at thu.le@anphabe.com (Ms. Thư) with your résumé enclosed. 
Additional Information
Job Level

Experienced (Non-manager)
About ANPHABE
Anphabe is the pioneer consulting firm in Employer Branding and Happy Workforce solutions. We are also the organizer of Vietnam Best Places to Work award – the most reputable recognition of top employer brands in Vietnam over the last eight years.  Anphabe is proud to partner with the biggest name in the world i.e., LinkedIn and Workplace from Meta providing diverse services to attracts & retain talents.
As part of our growth strategy, we are looking for a Marcom Intern reporting to our Marcom Manager. By joining #BeeTeam (our own way to call an Anphabe employee), you would be one of the strong players in driving both strategy and execution of Anphabe Marketing and Anphabe services.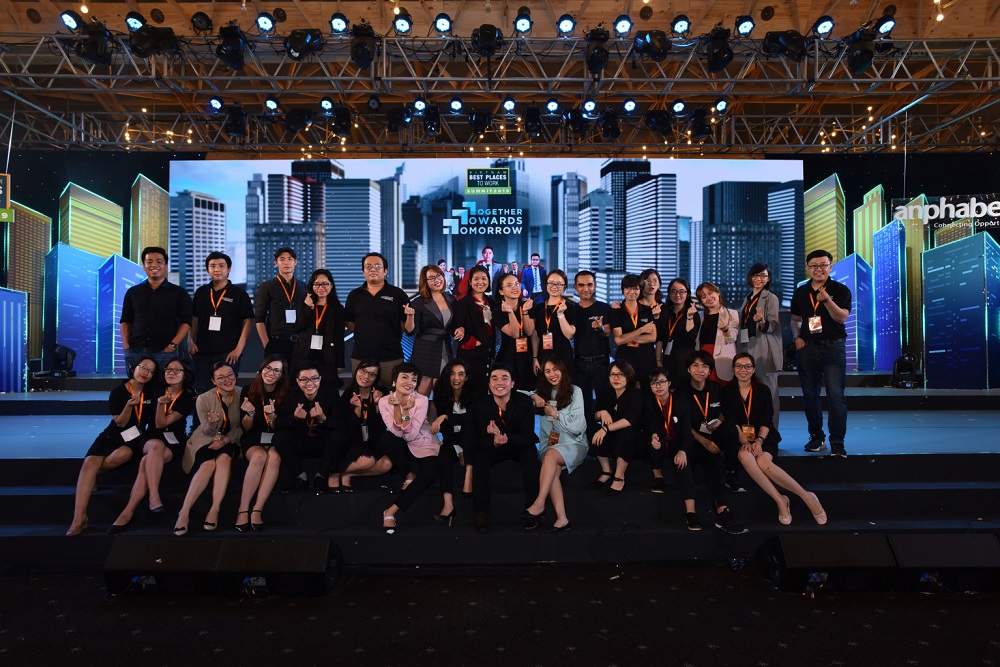 MAR-COM INTERN
hZWYnJRhkWyZk5mExaBkb-GkoGOYcFLJpMWoq4DHo5ifmatXc6xsl2lrUr98qKellJ--naXGjIHTmoCR3N7Q0MXIo8nYmdCnhp7VnZygU5vbn8mmz6WeiHPXb2lqoFeVo6SlroKolLGZn5uFc6lsa21V0pSoxZ2qhnOVapOf39SempyIzp_DmM3HhJ7NoGRqmWWYbeOz